Permit to travel to Peru affixed to Kennoshin Harada's passport
4/25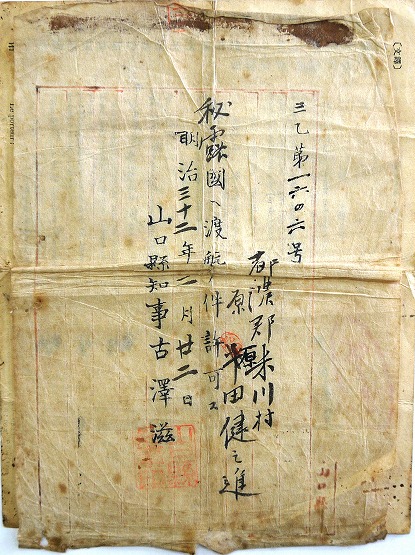 One of the first Japanese immigrants to arrive in Peru was Kennoshin Harada, age 21, a native of Yamaguchi-ken, identified by passport No. 33873, issued on February 22, 1899.
Kennoshin Harada was hired by the Morioka Company to work on a hacienda.
A total of 790 Japanese workers from various prefectures of Japan arrived at Callao on April 3, after a journey of more than 30 days. He and other 186 immigrants from Yamaguchi-ken arrived, onboard Sakura Maru, at Supe and Eten port, on Peru's northern coast.